FAQ About Clear Aligners Houston TX 77449
Posted by Vita Dental on May 9 2023, 06:37 AM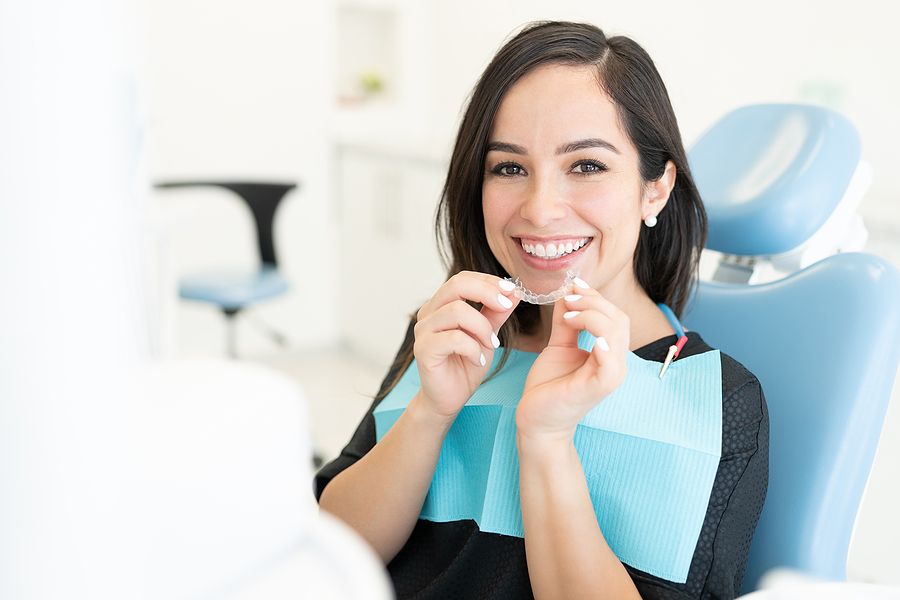 Are you considering straightening your teeth? There are many orthodontic treatment options available, one of which is clear aligners. These aligners are easy to wear and can be removed for eating or cleaning your teeth.
What are clear aligners Houston TX 77449?
Instead of brackets and wires, patients wear a series of clear plastic aligner trays that gradually reposition the teeth over time. Each set of aligners is worn for two weeks at a time, and then the patient moves to the next set in the series.
Patients can remove the aligners to eat and brush their teeth. Because the aligner trays are removable, patients can clean and maintain good oral hygiene during treatment.
Are clear aligners Houston TX 77449, only for minor tooth movement?
No! While clear aligners are most popular for straightening front teeth, they can correct problems with your bite and even address misalignments on back teeth. Your doctor can help you determine if clear aligner treatment is right for you and your smile.
Clear aligner therapy involves a series of custom-made removable trays that you wear over your teeth. When you switch trays, your teeth gradually shift into place. Over the course of several weeks to months, depending on the complexity of your case, you can finally achieve a straighter, healthier smile.
How long do clear aligners take to straighten teeth?
The average treatment time with a clear aligner is one year; however, this depends on your specific case and how far your teeth need to be moved. Patients need to wear clear aligners for a minimum of 22 hours a day to have faster results. If you have any more questions about a dental procedure or want to discuss a treatment plan, call your dental office to schedule a consultation today!
How are clear aligners cleaned and maintained?
The aligners should be brushed and rinsed each time you brush your teeth. They should then be placed safely after they are removed to drink water and eat food. You may also use denture cleaner to remove any discolorations on your aligner. You should store them in a dry case to keep them safe while not in use. 
Our oral health experts will instruct you on the best way to care for your aligners, but generally, you'll want to keep them clean and free of bacteria. This is why they're not supposed to be worn while eating or drinking anything besides water. Cleaning your aligners properly will help to ensure there's no buildup of food or bacteria and that you're wearing them for the recommended amount of time each day.
What are the advantages of clear aligners?
Clear aligner treatment involves a series of customized, removable trays that fit snugly over the teeth and gently move them into place over time. During the process of clear aligners by the best dentist in Katy TX 77449, patients enjoy a number of advantages, including these.
They're virtually invisible to others.

You can remove the device for eating and special occasions.

They allow you to brush and floss normally to maintain excellent oral health.

The smooth plastic is more comfortable than traditional braces.

Treatment is often faster than traditional braces in Houston TX 77449.

Most people won't notice you're wearing the trays.
To learn if you're a candidate for this treatment or to schedule your initial consultation, please call and schedule an appointment with our Dentist Houston TX 77449, today. We're eager to meet you and start you on the path to a beautiful new smile!